Brightening your Spring Home with Energy Efficient Lighting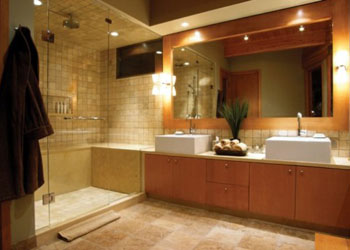 Once the weather gets warmer and spring has set in we often think about more time to spend with friends and family entertaining or just leisurely relaxing. One of the areas of the home that is often neglected is energy efficiency when it comes to beautifying our spring homes. While you may remember to turn off the lights when leaving the room or have cranked the thermostat warmer in order to conserve energy, energy efficient lighting is another avenue to consider. This spring brighten your home beautifully with lighting that helps save you green and conserves energy.
LED lighting has taken the home interiors world by storm over the last few years. Light-emitting diode or "LED's" were commonly used for appliances, and indicators lights for your favourite portable electronics are now proving to be the safer, and more energy efficient lighting choice for today's modern home.
Utilizing LED lighting to perk up your task lighting:  When lighting your home, especially task areas such as a home office desk or kitchen countertops, look to energy efficient LED lighting. Under cabinet lighting in the form of "puck lighting" create a beautiful aesthetic to your kitchen and illuminate your kitchen preparation area for increased safety. LED lights tend to be whiter and give off a crisper illuminated experience. In your home office, consider using LED bulbs in desk lamps and also beautify your built-in bookshelves to help reduce eyestrain.
Beautifying your outdoors with LED lights: Outdoor lighting can range from simple string lights used to add ambiance to your barbecue party this spring, or it can be used to illuminate landscaping. Many LED light manufacturers make bulbs that can fit in your everyday fixtures. Flood lights that are used to protect your home from intruders as well as "flood" your exterior home with illumination can be used in flood lighting fixtures. Incandescent and halogen bulbs tend to burn out quickly and use more energy to produce light.  This means you will be changing out your bulbs more often and throwing money away, look to LED bulbs as a smart alternative, and save even more money by buying in bulk at wholesale prices on sites like this.
Innovative uses for LED lighting: While the practical uses of LED bulbs are a plus, homeowners are enjoying the innovative benefits of these bulbs in a variety of applications. LED lights can be found in bedroom and dining room soffits to illuminate the ceiling, and also around kitchen countertops, seating, and even around barstools to give a funky glow to any interior. Architectural elements such as columns, stairs and even balconies are now creating new experiences for homeowners that were once reserved for high-tech lighting applications.
Brightening your home this spring shouldn't require your pocket to take a punch, and energy efficient LED lights are great option for many homes. Your interiors and exterior home can see the benefits from crisper lighting and colourful varieties to a cooler output of light, you will love how your spring home benefits from the uses of LED lighting.
This is a guest post by Ronique Gibson. Ronique is a home lifestyle writer and owner of Stagetecture.com where she helps homeowners love their homes. She enjoys helping solve everyday challenges with simple home solutions.
|o|