Planning a Sustainable Bathroom Renovation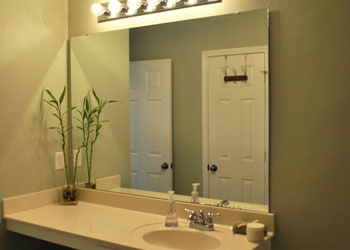 If you've been dreaming of renovating your bathroom, it's important to balance your sustainable principles with the look you desire. Here are some tips to help you get started on creating a green bathroom, whether you will be doing it yourself or hiring a contractor.
Getting Started: Energy Efficiency
One step toward having a green bathroom is to look at where you may currently be wasting energy and focusing on those fixtures for your renovations.
Water consumption is one area where many homemakers can make improvements. Toilets and showers use large quantities of water, and a few simple changes can save thousands of gallons of water a year and also reduce your water bill.
Look into dual-flush toilets or retrofitting your old toilet with a dual-flush mechanism.
You can also install a low-flow shower-head in your shower.
Consider turning down the temperature on your water heater or adding an insulating blanket and insulating accessible hot water pipes.
If you are ready to replace your water heater, you can also use a condensing storage water heater or a tankless water heater instead of the old-style tanks.
Getting Started: Eco-Friendly Materials
Another factor to take into consideration when planning your new bathroom is how to use materials that will be as good for the planet as possible. One great strategy is to re-use and re-purpose old materials where you can, either by salvaging them from the street or from Craigslist, or even by finding them in your own attic or garage.
When purchasing new materials look for those that are certified as environmentally friendly or as having high recycled content, while avoiding materials containing VOCs (volatile organic compounds).
Consider using LED lights, which last far longer and use less energy than traditional light bulbs.
Donate any salvageable materials or old fixtures that you replace during your re-model to organizations like the Salvation Army or Habitat for Humanity, instead of dumping them in the trash.
Budgeting
One disincentive toward going "green" is the perception that it can be more costly. When making your budget, be aware that many of these short-term expenses can be balanced out by long-term savings. You can also gain tax credits for using certain environmentally-friendly options.
Although LED lighting is more expensive than traditional lighting, the savings on your power bill will make the initial output in funds worth it.
Long-term savings on the fuel bill can also result from the purchase of a condensing storage water heater.
Using recycled and salvaged materials creatively is a good way to reduce the costs of re-modeling.
Timeline
Make the process less painful by creating a schedule. If you are doing it yourself, you have increased flexibility; if you are having a contractor do the repairs, make sure you have a clear line of communication about your expectations.
Start out by deciding the extent of the re-model – do you want to completely re-do the existing bathroom or are you only considering smaller changes? Investigate options for re-modeling and make a checklist of questions.
Do you want to replace fixtures?
Do you want to update the plumbing or electricity?
Do you want to increase the size of the bathroom?
Once you have a list of changes, investigate "green" possibilities.
1. Make sure to take into account potential long-term savings when evaluating their cost.
2. Look for guides to green contractors to consult when seeking estimates. A contractor who is experienced in this type of renovation will know best what type of materials to use and how to reduce costs.
3. Once you've finalized the changes you want to make and chosen a contractor or decided to do it yourself, pick a target date for the renovations, taking into consideration any planned vacations or other factors affecting access to the home and the bathroom for doing the work. Figure out when all the materials need to be ordered and when any needed permits should be obtained.
Although there are many decisions to be made and a great deal of work to be done, keep in mind the reward – soon, you will be enjoying a new bathroom that you can enjoy with pride, knowing it reflects your eco-conscious values.
This is a guest post by Chris Long. Chris is a Home Depot store associate in the Chicago suburbs and also writes for the Home Depot website. Chris' interests on bathroom home improvement topics range from providing vanity tips to shower and tub advice.
|o|